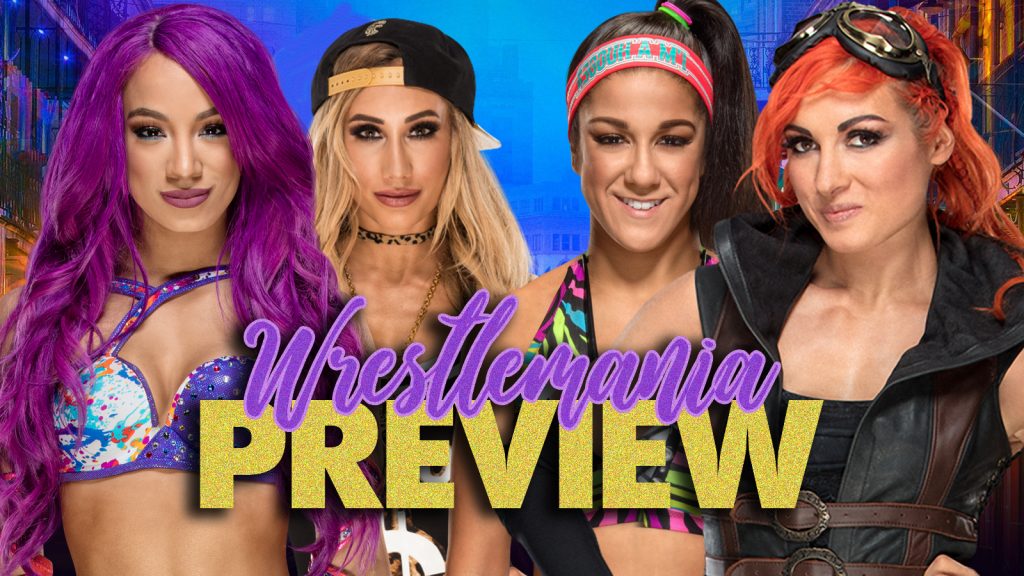 I'm going to go through this whole preview without mentioning how horrible that Women's Battle Royal trophy is because I'll just get too angry.
Seriously though – that's the best WWE could come up with?
Anyway, to make things simple, I'm going to look at each entrant into this match and speculate about their chances of being the inaugural WrestleMania Women's Battle Royal winner.
I should note that there is a possibility that some NXT entrants will be in the match, but this is yet to be confirmed.
The Entrants:
Lana – Nope.Chance of winning: None.
Sarah Logan – In the match to act as a bodyguard for Ruby Riott, that is all.Chance of winning: None.
Liv Morgan – See above.Chance of winning: None.

Mandy Rose – Probably the first to be eliminated, having been the first woman eliminated from both the first Women's Royal Rumble and the first women's Elimination Chamber.Chance of winning: None.
Sonya Deville – Another under-utilized star; Sonya Deville is stuck in Absolution and needs to get out fast. But for now, she's just another name.Chance of winning: None – but would be a great surprise.

Mickie James – Suddenly Alexa Bliss' best friend, but has been squashed by Nia Jax over the past few weeks. She has very little momentum and therefore it would make very little sense for her to win.Chance of winning: Very small.
Naomi – A former WWE SmackDown Women's Champion, but currently has very little momentum and is losing to Carmella in three-minute matches on Tuesdays.Chance of winning: Very small.
Bayley – One of the only entrants, along with Sasha Banks, who actually has a storyline heading into the match, which at least gives some intrigue to the proceedings. In all likelihood, Bayley isn't going to win this match. My prediction is that either Banks and Bayley will eliminate each other at the same time, or Bayley will eliminate Banks, who will then re-enter the ring and eliminate Bayley.Chance of winning: Very small.
Sasha Banks – There's not much more I can say about this feud, but if this really is the blow off, which I can't believe it will be, then it's a sad thing. We've seen how good these two can be in a real feud, but that was on NXT when they were given time to build it, rather than made to look like two grumpy teenagers. Hopefully, they'll at least give them a long match on Raw after 'Mania, because otherwise it's been a complete waste of time.Chance of winning: Very small.
Carmella – 'Ms. Money in the Bank' Carmella has been a bit of a non-entity since she won the briefcase, and after several failed cash-in attempts, has become a bit of a running joke on SmackDown Live. If rumors are to be believed, she will instead cash in on Raw, thus allowing Asuka to remain undefeated if she does as is expected of her and beats Charlotte. Therefore, she doesn't need the battle royal trophy to elevate her.Chance of winning: Very small.

Ruby Riott – The head of the least intimidating stable in WWE, along with Absolution. The Riott Squad have never had a chance to get going in WWE. They entered with a small pop, and have fizzled out slowly ever since. Ruby was given a shot at the title, more because no-one else made any sense rather than WWE taking her seriously, but that at least gives her a sense of prestige going into this match.We could see some sort of stable war in this match, with Liv Morgan and Sarah Logan acting as bodyguards for Riott, but I just can't see her coming away as the inaugural winner.

Chance of winning: Possible, but unlikely.

Natalya – Arguably one of the favorites to come away as the winner. Although I am not a fan of her promo or in-ring work, you can't argue with her longevity and experience. It wouldn't surprise me at all if she's given the honor of winning the first WrestleMania Women's Battle Royal as a reward for her time in the company.Chance of winning: Reasonably high.

Becky Lynch – The most under-utilized wrestler, not just in the women's division, but possibly in the WWE. She is a natural babyface, can go in the ring, the fans get behind her, and she hasn't been involved in a proper storyline for over a year. I mean, what?! She was the first ever WWE SmackDown Women's Champion, and since losing the belt the Alexa Bliss, has done the square root of jack-all.Hopefully, WWE will see sense and allow her to win this to at least give her some sort of momentum.

Chance of winning: High.
Prediction: Becky Lynch
What do you think about this match? Who is going to win that awful trophy and walk away as the first ever WrestleMania Women's Battle Royal winner? Let us know in the comments or on Twitter here.