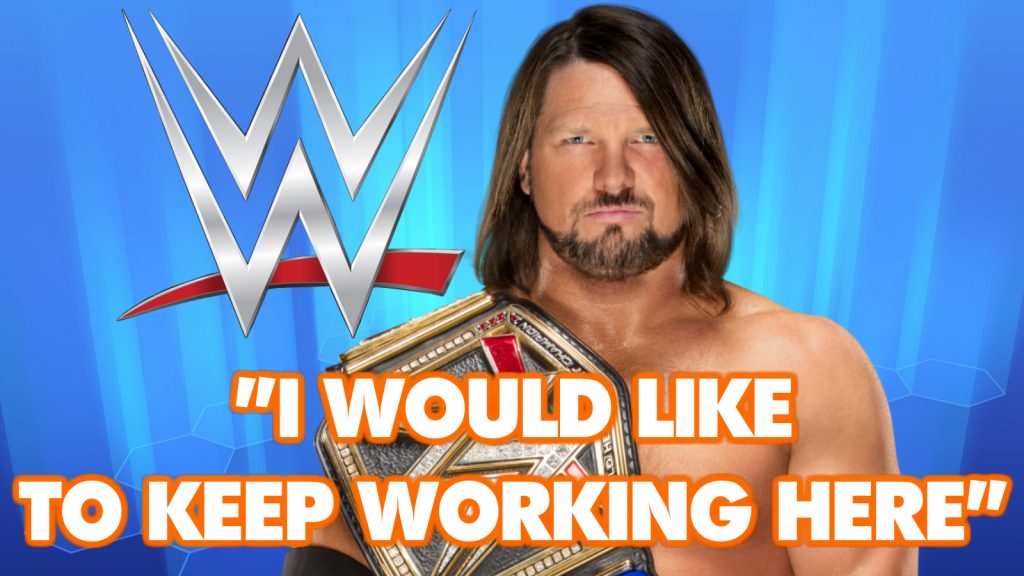 In an interview earlier today with RauteMusik on YouTube, WWE Champion AJ Styles revealed he "would love to keep working for the WWE."
This is, of course, good news for everyone involved as AJ Styles is undeniably one of the best professional wrestlers in the world and the fact that he is happy working for WWE is certainly a plus for the biggest promotion in wrestling. It's also a plus for us, the fans, who get to see him in action week in week out. Styles' current contract expires in early 2019.
Also in the above interview, Styles revealed his plans for after he retires from in-ring competition:
"I think there's definitely going to be a time of chilling out with the family just a little bit, but guys like me aren't used to staying at home, so I'd like to get back on the road, either as an agent, but more importantly I would rather be a trainer of some sort; but who knows what will be available in WWE when I decide to retire, there may be a better job than that."
When asked in the interview who he sees as the "breakout stars of the next decade", Styles responded with the following:
"Well that's tough to tell, some guys might not even work for the WWE at this point, and they might be the next breakout guys in the next couple of years, so it's hard to determine who that might be. You never know when that one person's going to get the confidence the need in themselves, and what they can do in the ring and on the microphone to be that next big superstar. So to say 'Oh I'm sure it's going to be this guy', you just never know."
AJ Styles is set to defend the WWE Championship against the winner of the 2018 men's Royal Rumble match Shinsuke Nakamura at WrestleMania 34 on April 8, but injury concerns have left a tiny bit of doubt.
Are you happy that AJ Styles wants to stay with WWE? What role do you think he should take when he does finally retire? Let us know in the comments below or on Twitter here, and as always, have a spiffing Rusev Day.