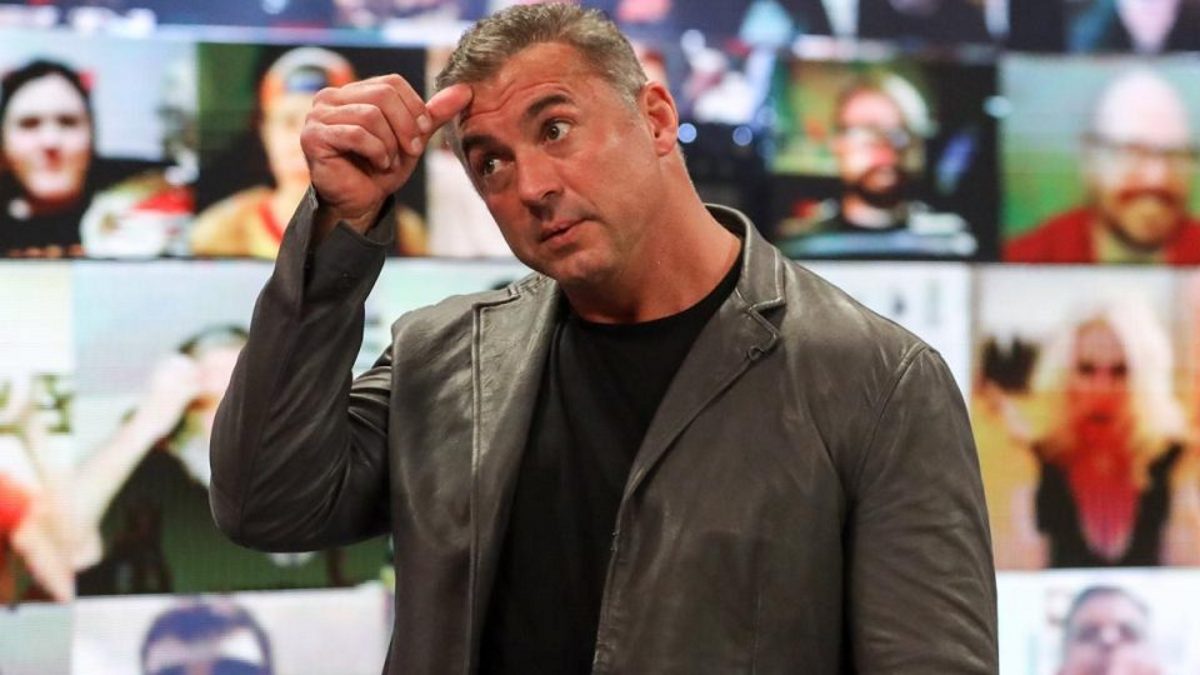 There's massive backstage heat on Shane McMahon, Jeff Hardy rejects a WWE return, several WrestleMania plans revealed, and more.
It's Monday morning, and the Royal Rumble is now in the rear-view mirror. I'm Liam Winnard for WrestleTalk.com, and this is our audio news bulletin for January 31, 2022.
Listen to this morning's round-up here:
Backstage Heat On Shane McMahon
Shane McMahon made his WWE return as entrant number 28 in the men's Royal Rumble match, but apparently quite a lot of people aren't happy that he's back.
Unlike most matches, Royal Rumbles are usually a group collaborative effort when it comes to producers, and McMahon reportedly played a part in planning and producing the match this time around.
According to Ringside News, which correctly reported that he and Bad Bunny would be entrants in the Rumble, there's "substantial" heat on McMahon stemming from the role he played in producing the match.
A tenured member of the creative team told Ringside News that Shane McMahon "tried to book the Rumble around himself" and "openly buried Jamie Noble", who was one of the other producers.
McMahon was also said to be "confrontational" and "fighting with people" who disagreed with him during the process.
Now according to PWInsider, the Rumble planning as a whole has caused morale problems among the roster.
There were said to be "constant changes" being made to plans for the match, with the men's Rumble specifically being said to have changed "20 times" during the course of the couple of days leading up to the show, and a similar experience for the women.
Sources believed this is one of the reasons for the lack of quality in the matches themselves, because people were too busy trying to remember what they were and weren't supposed to do, which plans were old, which plans were new, and just a general sense of confusion and a hectic environment.
One anonymous WWE talent said:
"We were all in a whirlwind. Just as you had your role and spots down, everything started over and over and now most of us were back to square one. It changed again and again and again. It wasn't an easy night even before we hit the ring."
The man responsible for this is of course Vince McMahon, who was really trying to manage the Rumble matches in more detail than previous years.
Jeff Hardy Rejects Big WWE Return Offer
In a big story that really went under the radar because of the Rumble, it emerged that Jeff Hardy rejected a big offer to return to WWE.
WWE released Hardy in December after he reportedly refused the company's offer to send him to rehab following him walking out of a house show match under strange circumstances.
Well, in the latest Wrestling Observer Newsletter, it was reported that WWE's Head of Talent Relations John Laurinaitis recently contacted Hardy in an attempt to bring him back to the company.
The offer even included a spot in the 2022 WWE Hall of Fame. Hardy didn't accept it, and asked to see results from a recreational drug test because he knew they'd be negative.
The belief is that WWE really doesn't want Jeff Hardy to join AEW because the obvious reunion with his brother Matt would be such a big deal.
Hardy is still under a non-compete following his release until March 9, so AEW can't legally make him a contract offer until after that expires.
WrestleMania Plans
Following the Royal Rumble on Saturday, several big WrestleMania plans have been revealed and will play out on TV in the coming weeks, even as soon as tonight.
Firstly, the men's Royal Rumble winner Brock Lesnar, will of course be facing Universal Champion Roman Reigns, which has been the planned main event for WrestleMania night two for quite some time now.
The WWE Championship match is a bit more unclear. The original plan was for Seth Rollins to win the WWE Championship in the four-way match at Day 1, and defend it at WrestleMania against Big E.
With Roman Reigns off the Day 1 card and Brock Lesnar having been inserted into, and winning, that match, coming out of the Rumble we now have Bobby Lashley as WWE Champion.
According to WrestleVotes, WWE currently has "no idea" what the WWE Championship match at Mania is going to be at this point.
Turning attention to the women, and Ronda Rousey, who returned to win the women's Rumble, is slated to face Charlotte Flair, who was the last person she eliminated to win.
Dave Meltzer reported that Rousey is back for two WrestleManias, and at least as of right now, people who would rather see Rousey face Becky Lynch are just going to have to wait a year, because that match is currently planned for WrestleMania 39.
Meltzer added that Rousey is back as a "regular" and will be in action on big shows, and it's not like she's just going to be doing the WrestleMania match and then disappearing again.
Since she'll be facing Charlotte, she'll be on the SmackDown roster for now, even though she's appearing on tonight's Raw to make the WrestleMania announcement.
Also, someone we mentioned earlier, Meltzer reported that Shane McMahon is set to wrestle at both the Elimination Chamber in Saudi Arabia on February 19, and at WrestleMania, so us at home, and those backstage, are gonna have to get used to him being around.
Other Stuff
In other little bits of news from the past couple of days…
Ringside News reported that Seth Rollins was booked to be in the Royal Rumble match at one point, so that's one of the many things that was changed.
Bad Bunny made his return for the Rumble, but he won't be at WrestleMania because he has concerts on both dates. PWInsider reported that he's pretty much considered part of the company at this point and is welcome back whenever he wants.
Drew McIntyre returned from injury in the Rumble match, but Dave Meltzer reports that he's not yet fully recovered and won't be working house show matches until he's more healed up, but he will be on TV.
PWInsider reported that WWE had contacted Lana about returning for the Royal Rumble, and people in the company believed as of late last week that she'd be in it.
There were several names backstage as backup entrants in case anyone needed replacing. Those that we know of include Aksana, Jillian Hall, Kaitlyn and Io Shirai.
The WWE Network will stream exclusively on Disney+ Hotstar in Indonesia, which is obviously not a big deal right now but opens the door between WWE and Disney which could be huge in the future.
The home of the WWE Network in the US, Peacock, reported a huge loss of $1.7 billion in 2021.
Sami Zayn revealed he pitched to work with Jeff Hardy at WrestleMania before Hardy was released.
Vince McMahon wants Joe Gacy to be pushed on NXT 2.0 because he believes the gimmick can garner mainstream attention, which it did at the very start.
WWE management is also very high on the Creed Brothers, particularly Julius who has been compared to Kurt Angle within the company. Other NXT names that higher-ups are high on include Von Wagner and Xyon Quinn.
LA Knight is set for a main roster call-up after he impressed WWE management. The call-up was slated for after WrestleMania, but could be sped up after the little segment he did with Dolph Ziggler and Robert Roode last week.
Knight was backstage at the latest SmackDown but didn't wrestle. Io Shirai defeated Dakota Kai, and Tommaso Ciampa defeated Roderick Strong in the pre-show dark matches.
Kevin Owens and Sami Zayn both re-signed with WWE recently, and we now know they signed through early 2025.
Mustafa Ali reiterated on Twitter that he didn't want to be involved in the Royal Rumble match – he wants his release from the company that WWE reportedly won't give him.
AEW's Anthony Ogogo's match from the latest PROGRESS show was edited out of the show when it aired on the WWE Network.
WrestleVotes reports that Finn Balor currently isn't in the US, which would explain his absence from the Royal Rumble match. He isn't injured and is expected back in plenty of time for WrestleMania. This comes just after reports of Vince McMahon not being a fan of Balor.
And according to PWInsider, Asuka is expected to return from injury in February, while Bayley is expected to be back in March.
Be sure to stay tuned to WrestleTalk.com throughout the day to keep up with all the news from the world of pro-wrestling, and I'll see you tomorrow morning for another round-up.