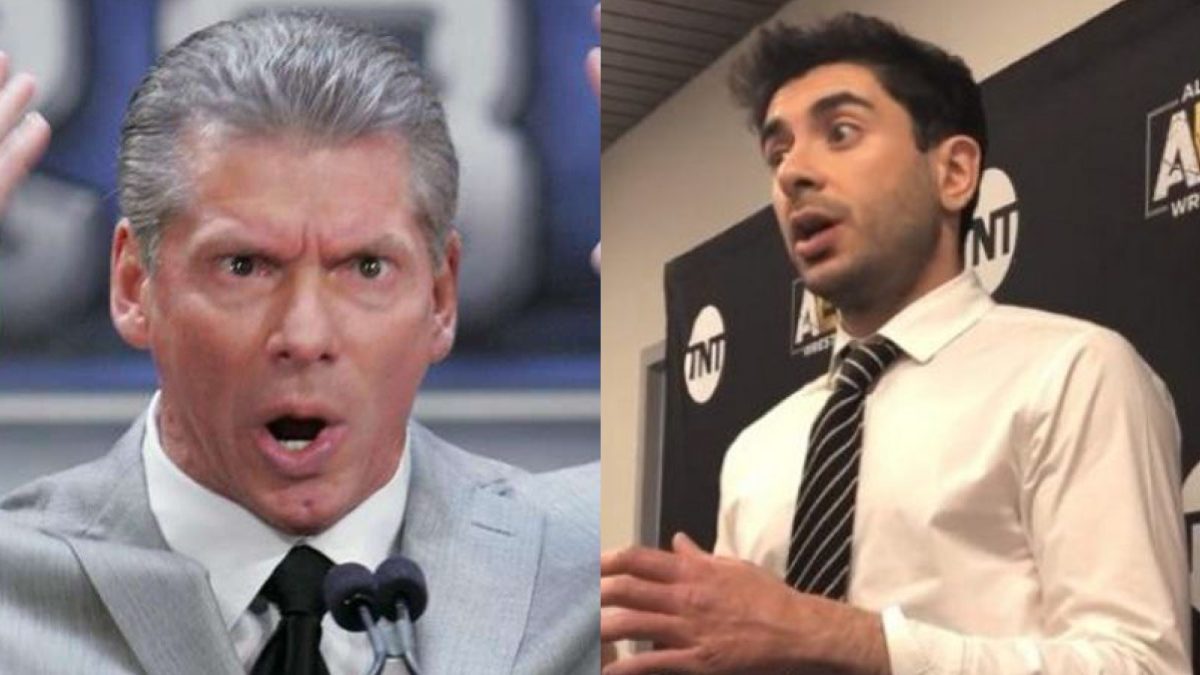 A WWE star has been released and is already heading to AEW, some of the plans WWE has in mind for Shane McMahon have been revealed, details on backstage chaos in WWE, and more.
Happy Wednesday, I'm Liam Winnard for WrestleTalk.com, and this is our audio news bulletin for February 2, 2022.
Listen to this morning's round-up here:
Brian Kendrick Granted WWE Release, Debuting For AEW Tonight
It was reported a little while ago that Brian Kendrick had requested his released from WWE but had been waiting a number of weeks for it to be granted.
Well, he has now gotten his wish, as Fightful Select first reported that his release had been granted, and that he was expected to be at tonight's AEW Dynamite.
Well, pretty much just minutes after that report came out, AEW announced that Kendrick will be making his AEW debut tonight in a match against… Jon Moxley, so he's not exactly being eased into the fold, but rather thrown into an active volcano.
Kendrick's last match came way back in October 2020 on an episode of 205 Live, where he teamed with Mansoor to defeat Ever-Rise, who are now 2point0 in AEW.
A match had been announced between Kendrick and Harland for an episode of NXT 2.0 this past December, but the match never took place.
AEW hasn't officially announced Kendrick as a new full-time signing, just tonight's match, but in the past, as we've seen with the likes of Bobby Fish, Tony Nese and others, the announcements that those people were signed actually came straight after their debut, so we'll just have to wait and see if that's also the case for Kendrick.
Bizarre State Of WWE's Plans For Shane McMahon
Shane McMahon has been in the news following his return at the Royal Rumble due to apparent backstage heat because of the way he conducted himself while producing the Rumble, but there's now some info about potential plans for future matches in the next couple of months.
It had already been reported that Shane was booked for matches at Elimination Chamber in Saudi Arabia on February 19 and WrestleMania on either April 2 or 3. The question is, who will he be facing in said matches? Well it seems like things are chopping and changing quite a lot.
Ringside News reports that a match between Shane and Bobby Lashley had been discussed for WrestleMania around the time of Day 1 at the very start of this year.
It's believed that this isn't the current plan, and the plan changed from that after Day 1.
A separate report from Dave Meltzer on Wrestling Observer Radio stated that McMahon was originally supposed to be part of the six-man field in the WWE Championship Elimination Chamber match, which would in some way be the catalyst for a feud with Seth Rollins culminating in a match at WrestleMania.
However, Shane was not one of the six names announced for the Chamber, so that has been changed as well. Ringside News added that the decision was for Austin Theory to replace Shane in the Chamber.
As of right now, it isn't clear whether the plan is still for Shane vs Rollins and they're just going to get to it in a different way, or if Shane will be moving onto an entirely new opponent, again.
WWE Backstage Chaos At Royal Rumble
And on the topic of chaos and confusion, that was very much the case at Royal Rumble this past Saturday.
We've already covered the reports of the constant changes to plans for the Rumble matches and Shane's heat, but some more detailed information has now come to light.
According to a report from Fightful Select, there was so much confusion that some participants in the Rumble match didn't even know who they were supposed to be eliminating when they entered. That is honestly insane.
One source called it the most frustrating experience of their WWE career, and by the sounds of it, they weren't alone in thinking that.
There was also a specific point made about Tyson Kidd – who reportedly hasn't been producing matches for WWE for several weeks – in that he was sorely missed on the women's side of things as he's usually the main producer for the women.
Sources called that match a "mess" and "complete chaos", and it was even noted that one woman actually passed on the offer to compete in the women's Rumble specifically because Kidd wasn't producing it.
Back to the men's side, and Dave Meltzer reports that, out of everyone in the Rumble in the way of Brock Lesnar, WWE did want to protect Drew McIntyre, but because of time constraints, the Lesnar vs McIntyre Rumble ending ended up being very rushed and didn't go as long as intended.
Yet another thing that changed was Seth Rollins, who at one point was supposed to be in the Royal Rumble match after challenging Roman Reigns earlier in the night. However, it was decided that it wasn't a good idea for Rollins to come back out after Reigns' steel chair assault after their match.
Funnily enough, that steel chair assault wasn't the original plan either, because initially Roman Reigns was supposed to just beat Rollins, and that was that. But that was changed too.
My brain hurts.
Other Stuff
Anyway, in other little bits of news…
The WWE names who were released on November 4 and had 90-day non-competes are now officially free agents. Those are Karrion Kross, Keith Lee, Mia Yim, Ember Moon, Harry Smith, Oney Lorcan, Gran Metalik, Lince Dorado, Eva Marie and Nia Jax.
As an update to yesterday's PWInsider report about Riddle originally being planned to win the Royal Rumble, Louis Dangoor of GiveMeSport, Fightful and Ringside News all reported that wasn't accurate and Lesnar was the planned winner for at least a couple of weeks.
Nia Jax had a pretty newsworthy appearance on Renee Paquette's podcast, where – among other things – she said WWE asked if she wanted to return for the Royal Rumble, which she emphatically declined.
Fightful Select reported the reasons why Asuka and Kairi Sane weren't in the Rumble despite being discussed. Asuka wasn't deemed physically ready, having been out with an arm injury since July. And the company simply decided other talent was easier to bring in than Kairi Sane.
Select also mentioned some new names who were backstage at Royal Rumble as alternates in case anyone needed replacing in the match. Those names were Apollo Crews, Shelton Benjamin, Cedric Alexander and R-Truth.
The February 18 episode of SmackDown will be taped on February 11 because of the travel to Saudi Arabia for Elimination Chamber on February 19.
Larry D announced he's requested his release from IMPACT Wrestling.
And announced for tonight's episode of AEW Dynamite in Chicago is the aforementioned Jon Moxley vs Brian Kendrick, Nyla Rose vs Ruby Soho, Penta El Zero Miedo and Pac vs the Kings of the Black Throne, and the big main event between Chicago's own CM Punk, and MJF.
Be sure to stay tuned to WrestleTalk.com throughout the day to keep up with all the news from the world of pro-wrestling, and I'll see you tomorrow morning for another round-up.