ROH Episode #398 featured 3 matches and 3 in-ring promo segments.  Dalton Castle addressed the Boys.  Kelly Klein wrestles against Ray Lyn.  Lifeblood takes on The Kingdom in the main event.  The opener of the show showcased PJ Black and Eli Isom.  With the upcoming War of the Worlds Tour, you would expect ROH to showcase some of the feuds and matches heading into that tour, but that is not the case on this show.
---
Quick Results:
PJ Black defeats Eli Isom
Kelly Klein defeats Ray Lyn
Dalton Castle calls out the Boys
Life Blood defeats the Kingdom
---
PJ Black versus Eli Isom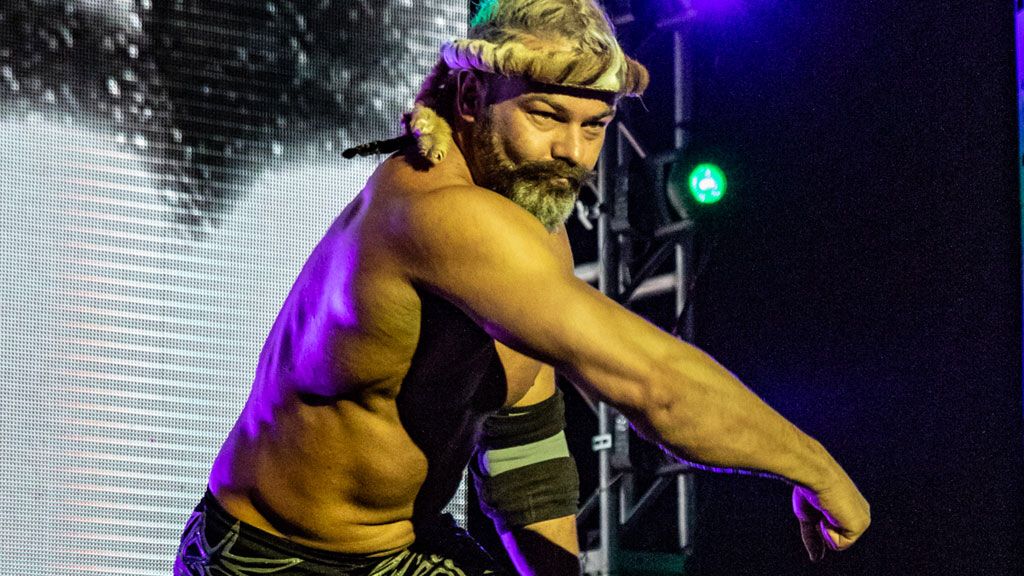 The young, up and comer, Eli Isom takes on the wrestling veteran, PJ Black in the opening match on ROH this week.  PJ Black has been on our television screens quite a bit as of late.  He recently lost a match against Bandido which had quite a bit of build.  The story there was would PJ Black stick to his guns and follow the rules.  Black did then and he did again tonight picking up the win over Isom.  Black hits a double-foot-stomp moonsault for the victory.
This match was nothing special, but it did showcase one of the younger members of the ROH roster in Isom.  It's smart of ROH to pair him with a veteran like Black.  It can only help Isom get better in the ring by having him face veterans.  However, given the poor reviews of the ROH portion of the G1 Supercard of Honor, I'm not sure it's been the smartest strategic move to focus so much attention on PJ Black.  He doesn't appear to be a guy they plan on pushing to the main event long term.  Consequently, I wonder if it would be smarter to give his TV time to the guys who ROH are planning on getting behind.  We haven't seen much of Juice Robinson, Rush, Cobb, Lethal, or Marty Scurll on the regular tv broadcast of late.
---
Kelly Klein vs. Ray Lyn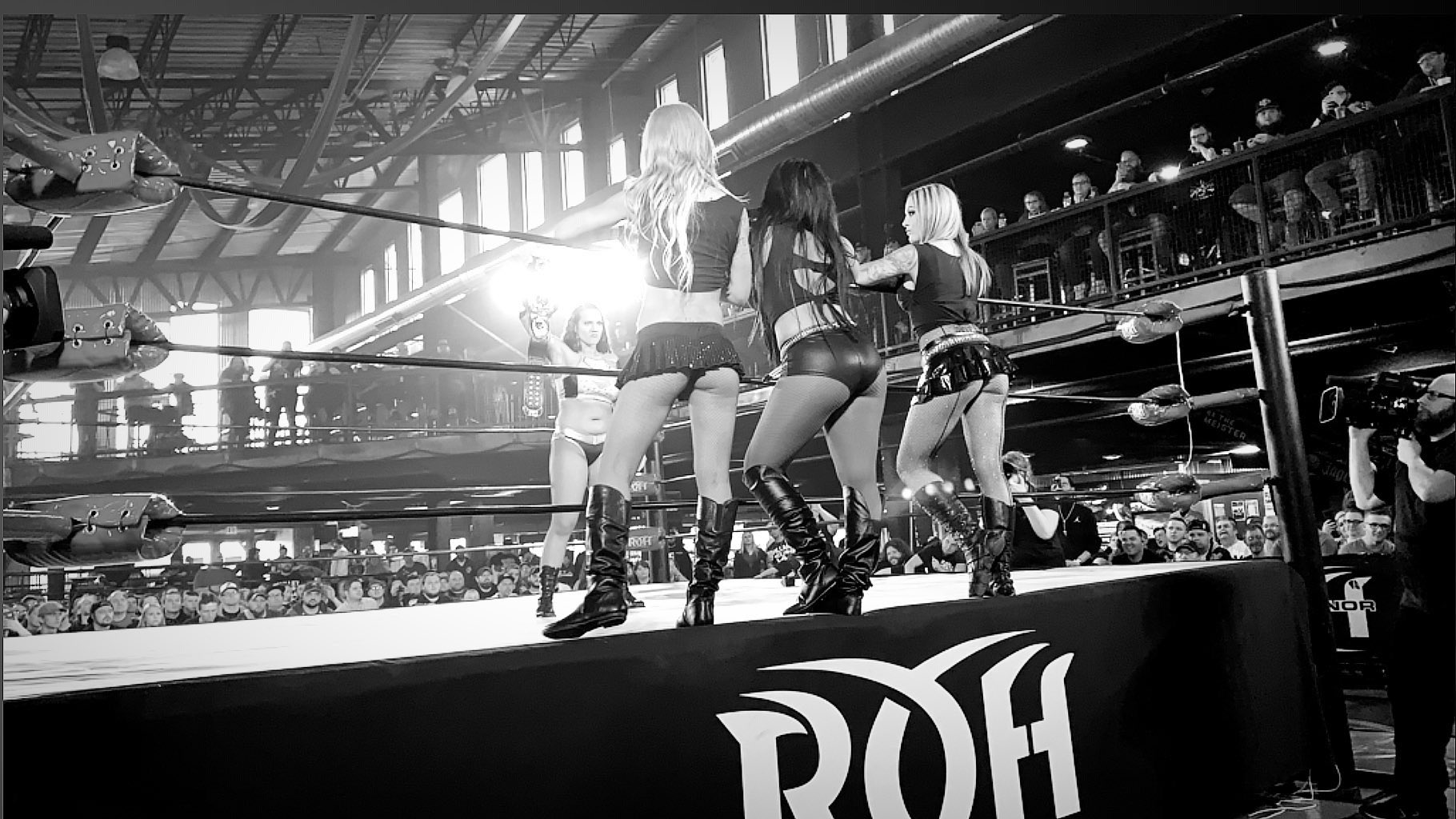 The WOH Champion Kelly Klein is out to take on Ray Lyn.  We've seen Ray Lyn on ROH previously.  However, tonight she got some mic time.  Prior to the match, she trash talks Kelly Klein and tells her she'll never respect her.  This was not a smart move.  Klein jumps out to the quick start.  Klein uses her size and power advantage to beat down Lyn.  As the match goes on, Lyn gets in a little offense.  Lyn went to the high rent district to hit a cross-body, but Klein catches her.  She drops her with a body slam.  Klein nails Lyn with K-Power for the victory.
Klein looked good in this match.  Lyn did an excellent job of putting over the champ.  Although, the story wasn't about the match.  After the match, Klein cuts the best promo I've ever seen out of her.  Now that I think about it, it might be the only promo I've ever seen her do.  She lays into the new faction, The Allure.  The Allure attacked Klein after her match at G1 Supercard.  She says they care about popularity, but she cares about wrestling.  Out comes 2/3 of the Allure.  Leon and Sky taunt Klein from the ramp.  This allows Love to sneak in the ring and hit a pump kick to Klein.  The 3 go on the attack.  Out comes Jenny Rose for the save.  However, her attempt was short lived.  The threesome make quick work of her and leave her with the lipstick A on her forehead.
This was not over with the fans.  You could hear a few boos, but it was mostly silence.  This group is not generating heat.  I'm not sure the ROH crowd comes to see this kind of story line.  Maybe with a few more weeks of storytelling, they'll be able to get over.  Rumors have it Bully Ray is gaining more backstage power.  Hopefully, the result won't be The Allure coming to power.  Kelly Klein needs a long title run and a solid push to help build ROH's women's division.
---
Dalton Castle Calls Out The Boys
Dalton Castle comes out to the ring to call out The Boys.  He apologizes to the fans and to his boys.  He tells them he'll never do it again.  After they embrace, Castle says he'll never put his hands on his boys again.  Wait for it…but he says, these are no boys of his.  He takes them out.  He hits some nasty clotheslines and gutwrench suplexes.  Castle is now a full heel.
Dalton pulled Alexa Bliss style promo convincing us he was sorry, only to fool us.  Castle did a really great job here.  I kept waiting on the heel turn, but he finally convinced me he was sorry.  He really delayed the turn until the perfect moment.  Good job, Dalton.
---
LifeBlood vs. The Kingdom
Mark Haskins and Tracy Williams take on Vinny Marseglia and TK O'Ryan.  This was a really good tag team match.  To me, the standouts of this match were Haskins and O'Ryan.  The Kingdom isolated Williams and worked over his shoulder, but eventually he makes the tag into Haskins.  Haskins takes out both guys and get the advantage for his team.
. @ThisIsHaskins faces @PCOisNotHuman May 11th on the WAR OF THE WORLDS Tour in Grand Rapids and has a message for @bullyray5150…

Be there LIVE to see what goes down! Tickets are on sale now!

?Tickets: https://t.co/gc3nUSG4GP#ROHGrandRapids Streaming LIVE for #HonorClub! pic.twitter.com/rgrhryMIBh

— ROH Wrestling (@ringofhonor) May 2, 2019
There were some nice spots in this match.  Williams hit a nice DDT onto the top turnbuckle.  Williams also locks in an ankle lock on O'Ryan.  Selling the injury, O'Ryan isn't able to hit the Kingdom's finisher.  Williams drops O'Ryan into a leg DDT and Haskins locks in a nasty looking sharpshooter for the win.  He really leaned all the way back, almost bridging onto his neck.  My favorite commentary moment of the night comes at this point when Rhett Titus exclaims that he really put a lot of "twerk" on that sharpshooter.  Caprice saves him a few moments later and says the word torque.
After the match, LifeBlood calls out Bully Ray.  A few weeks ago, Bully Ray took out Tenille Dashwood.  LifeBlood wants revenge.  Bully comes out, but doesn't get in the ring.  I assume we'll get Bully vs. a member of LifeBlood at some point in the future.
---
Final Take
Even with all the recent departures, ROH still has a lot of stars on the roster who are big-time over with their fans.  However, coming out of G1 Supercard, we are not seeing them on the weekly television show.  ROH is trying to get over some of the new regulars, but I'm not 100% they are focusing on the right talent.  Haskins is coming across really good.  The more I see of TK O'Ryan the more I like.
Again, I have to question the amount of time and focus they are giving to PJ Black.  I'm just not sure he's a guy who's going to move the needle.  Even with that said, tonight's show had a really good main event match.  Although, it did feel like it might should have been an opener. ROH put over their Women's Champ strong.  They furthered 3 storylines and feuds.  I'm giving this a 3.5 out of 5.  ROH can put on better shows and have had higher quality TV matches in the past.  However, the show went by fast and didn't lack for action.