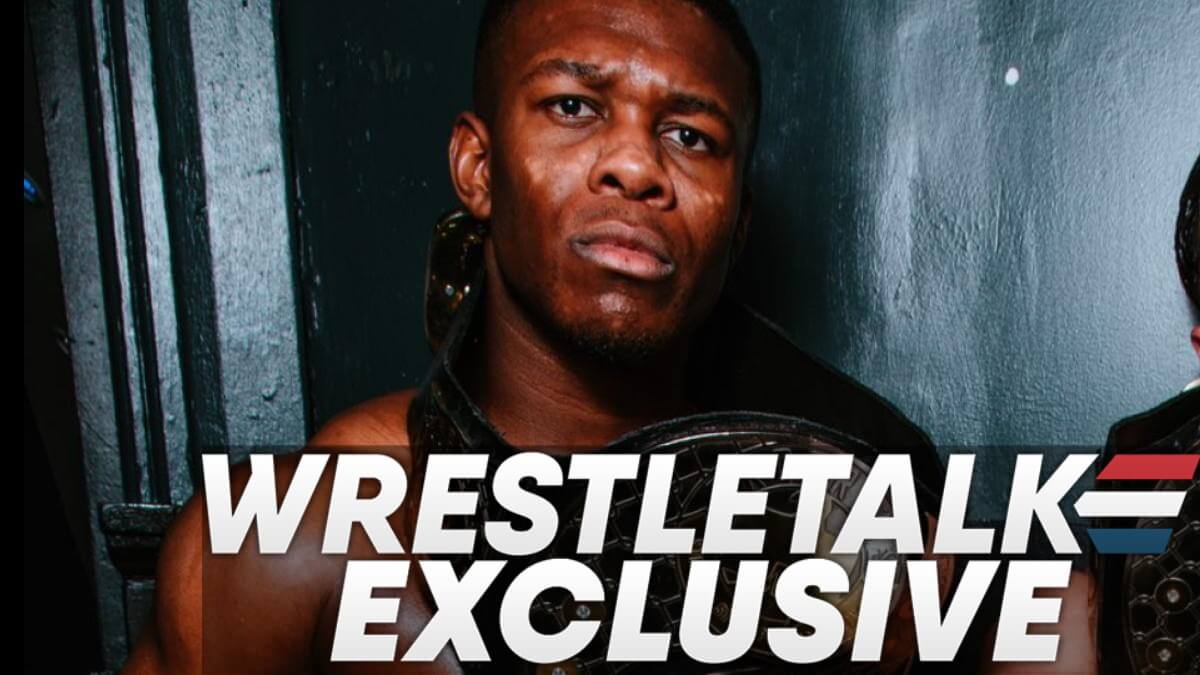 One half of the PROGRESS Tag Team Champions Man Like Dereiss spoke exclusively with Sanchez Taylor for WrestleTalk.com ahead of PROGRESS Wrestling Strong Style 16 Weekend.
PROGRESS will hold this year's Super Strong Style 16 tournament across three shows this week, commencing on Friday (June 3) with the finals set for Sunday.
Not only will more tournament matches take place during Saturday's show, the PROGRESS Tag Team Title will be defended in a three-way ladder match, with champions Dereiss & Dan Moloney of 0121 set to do battle with Chuck Mambo & TK Cooper of Sunshine Machine, and Charlie Sterling & Nick Riley of Smokin' Aces.
Since crowds returned to PROGRESS shows earlier this year, fans have passionately called for more tag team wrestling, and more 0121.
Happy to be back in front of live audiences, Dereiss said:
"I feel like it's great at the moment because we had the pandemic and there was a lot of wrestling that got cancelled right before. Then we weren't sure which promotions were gonna come back, so at the moment I'm just grateful for all the promotions I'm able to wrestle for. Everyone has come back after clearly working hard during the pandemic, and have come back ready to to take British wrestling to another level. 

"(Crowd reactions) have been crazy really. I'm very grateful that the PROGRESS fans have taken to us and loved us and shown us so much support over the past few months. Credit to Sunshine Machine and Smokin' Aces, because we couldn't have done this without them, they're great tag-teams in their own right. Without them, we wouldn't have been able to put on these great matches, have these interactions."
0121 won the PROGRESS Tag Team Championship at Chapter 131: 10th Anniversary Show, victorious in a five team gauntlet bout, last eliminating Sunshine Machine, who had previously eliminated champions Smokin' Aces.
Sunshine Machine challenged for 0121's gold at Chapter 132. Ahead of the bout, the crowd duelled with chants for almost eight minutes uninterrupted, before the official introductions.
Reflecting on the moment, Dereiss noted:
"When we wrestled Sunshine Machine at The Dome, the crowd reaction was crazy, everyone just chanting '0121', 'Sunshine Machine' back and forth, we weren't expecting that."

"The energy that the fans give ringside gets channeled into the ring so the more they were chanting, getting into it, the more I was getting into it, the more Dan was getting into it, and I bet the more Sunshine Machine were getting into it as well. By the time the bell rang, I was ready to fight, man. I was ready to give everything in that match."
At Chapter 134: No Mountain High Enough, Sunshine Machine and Smokin' Aces wrestled to a draw in a #1 contender match. Dereiss & Molony confronted the two teams before a ladder match challenge was issued for Super Strong Style 16 Weekend.
Sharing his thoughts on the tough competition, Dereiss said:
"It's expected I think because it's PROGRESS, the top promotion in the country. Naturally we'll have the top teams in the country coming for our title.

"Sunshine Machine feel they deserve it because they beat the champions. Smokin Aces feel they deserve it because they didn't lose to us. It has organically happened with the crowd reaction. Now we have a lot on our hands at the moment, and I'm sure there are other teams looking at the result of this match.

"It's definitely not an advantage (having a ladder match) because Dan and I don't have to be pinned to lose these belts. Anything can happen, there's six people in this match and so many variables, but Dan and I are definitely not two people who back down from a challenge.

"We've beaten Sunshine Machine before, we've beaten a lot of the best tag teams in the country over the past few years so if we're not trying to wrestle the best in a variety of matches, what's the point really? We're helping to elevate the division so if Chuck Mambo mentions ladder matches, we're not going to say 'no sorry, let's have a normal singles match.'

"On paper it's a disadvantage, but our mentality going into it is that nothing has changed. It's just another match we're gonna come out as the champions."
While Dereiss' is focused on the upcoming ladder match, he does have an idea for a team he'd like to face in PROGRESS following Strong Style 16 Weekend:
"We'll take on anyone at the moment because we keep beating everyone. I feel like when Ethan Allen comes back from injury, Young Guns vs 0121 would be a real good. Because they're sitting on the side, we haven't beaten them. We've wrestled Lykos Gym before, Smokin' Aces before and Sunshine Machine before.

"I've wrestled Ethan Allen and Luke Jacobs separately. I wrestled them in a tag match years ago but that wasn't with Dan. We're also completely different wrestlers now. I feel that would be a great match, and would also cement us as one of the best tag teams in the world if we were to beat them."
Check out our recent exclusive interview with Sunshine Machine right here, and our exclusive interview with Smokin' Aces from earlier this year right here.
? TAG TEAM TITLES LADDER MATCH ?

Day 2 of #SSS16 see's the PROGRESS Tag Team Titles being defended in a Triple Threat Ladder match, which team will claim the Tag Team Gold?

? Tune in at 8pm for more…

Read Now? https://t.co/wwkccXDaE4
Tickets? https://t.co/aHo1WZ4hQU pic.twitter.com/xQvCaA7TEm

— PROGRESS Wrestling (@ThisIs_Progress) May 25, 2022
Edited for length and clarity. 
Thumbnail photo credit Head Drop Photography.
To make sure you stay updated with all the latest wrestling news, add WrestleTalk.com to your Google Discover feed and follow us on Twitter!