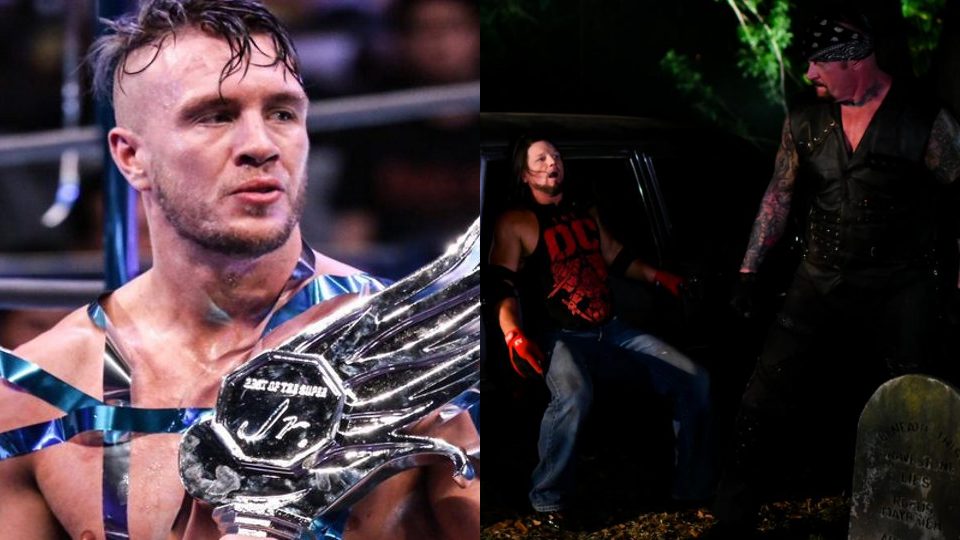 In today's Q&A here on the site, we discuss the recent Will Ospreay controversy, cinematic matches, and more of your questions!
@pabloarzapalo – Which match should main event NXT TakeOver: Stand & Deliver? Karrion Kross vs Finn Balor, or Adam Cole vs Kyle O'Reilly?

Liam Winnard (Website Manager):
I've actually just written up the story of WWE confirming it'll be Kross vs Balor that main events night two, but let's pretend that didn't happen for a second. I'm a big advocate for the top title match going on last, but I'd actually make an exception here. Cole vs O'Reilly is years in the making, and while Balor vs Kross does have a bit of a backstory because Balor's the guy that only won it due to Kross' injury, the build hasn't been the most scintillating because Balor's been caught up in the Undisputed ERA stuff. And quite frankly, Cole vs O'Reilly is a better match than Balor vs Kross. Perhaps this will be the one but Kross' big matches in NXT have both been lackluster so far (Keith Lee and Damian Priest). So, it will be Balor vs Kross, but I'd have done Cole vs O'Reilly.
Louis Dangoor (WrestleTalk Reporter):
With the Women's Title main eventing night one, I think it would feel strange to not have Kross and Balor main event night two. While Cole vs O'Reilly is more than worthy of the main event slot, I think that Balor and Kross probably should close out night two. It's worth noting that WWE is showing a lot of faith in Raquel and Io, as night one of TakeOver is going head-to-head with AEW Dynamite. I thought that NXT would have Balor and Kross close night one, personally.
@Walu2go – Why is Titus O'Neil only good for hosting WrestleMania these days but never competing?
Liam:
O'Neil is a fantastic guy when it comes to outside the ring, charity, and just being a good bloke in general. WWE has seen that and promotes such things because, quite frankly, it makes the company look good having a guy like that. Plus, WrestleMania's in Tampa this year, which is O'Neil's hometown, so he'll be more than welcome. Unfortunately, he's just not great in the ring. Perhaps he should wrestle a bit more than he does, but WWE is clearly happy with him doing the ambassadorial duties he's doing right now. And to be honest, the stuff O'Neil does outside the ring is way more important than having him wrestle. So as long as he's happy doing it, I don't see why anyone would have a problem with it.
Louis:
The thing that people don't appreciate about Titus O'Neil, is that he does a considerable about of work for WWE behind-the-scenes and is a fantastic ambassador for the company with charities and other external projects, and there's no problem with that. I actually like Titus, and by all accounts he's a great guy, but I don't know how many people are clamouring to see him return to the ring. I think doing ambassadorial work is just fine right now.
@dann1878 – Favorite cinematic match from the COVID-19 period?
Liam:
The three that stick out to me are the Undertaker vs AJ Styles Boneyard match at WrestleMania 36, the Stadium Stampede at Double or Nothing, and the Sting & Darby Allin vs Team Taz street fight at Revolution. If I had to pick one, I'd go with the Boneyard match. The environment, the production, the spectacle, the fact it may have been Undertaker's last match. It all adds up to make it the best one there's been.
Louis:
For me, it's always going to be the Firefly Fun House match. I know the match was so divisive, but I thought it was so different and unique. It rewarded fans for being long-time viewers of the product, and that's something that WWE rarely does. The match was so unlike anything WWE has put out in years, and that has to be applauded. For me, that's the best cinematic match of the COVID era.
@TheeAgent008 – What are your personal thoughts about the events after the Will Ospreay vs Shingo Takagi match (Ospreay attacking Bea Priestley)?
Liam:
So, the defence is that Will Ospreay is a heel and that was a pretty bad thing to do. That is correct and a valid point. Having said that, NJPW has proven to be quite tone-deaf in recent times, and unfortunately I think this is probably another example of that. If NJPW hadn't done other certain things and had certain people backstage recently I'd maybe be a bit more forgiving, but considering everything that has come to light in the past year or so, it certainly isn't something I'd have done. Now they've done it, it needs to have a positive payoff.
Louis:
It's a difficult subject, I understand. On the face of it, having a man attack his girlfriend to show his willingness to win a title doesn't sound great, but it's important to look at the angle in context. Ospreay is a heel, and we aren't supposed to like him. I didn't mind it personally, but I can appreciate that others may not have liked it and that's completely fine.
@jefferis_john – Do you think Will Ospreay will beat Kota Ibushi for the IWGP championship or is it too soon for Ibushi to lose the title?
Liam:
Considering my answer to the previous question, I wouldn't put the title on Ospreay right now. If that angle didn't happen though, I'd have probably said he should. I'm not the biggest Ibushi fan and we all know how good and popular Ospreay is. But as a prediction, I don't think they'll take the title of Ibushi yet.
Louis:
I think it's too soon for Ibushi to lose the title. It's nothing against Ospreay, but with the prospect of Kenny Omega returning to NJPW once the pandemic is over (or Ibushi doing work with AEW), I think it's certainly a good idea to have Kota retain here. I'm sure Ospreay will win the title over the next few years, NJPW loves him, so it isn't the end of the world.
@MasonCooper4 – What is the correct amount of pasta for one single human? I seem to either put nowhere near enough on, or enough to end world hunger!
Liam:
I always make more than I need because I'll just keep it for whenever I may happen to want it. Tuna and pasta is always a good snack to have ready and waiting in the fridge.
Louis:
I actually figured out a trick for this. I put the pasta into the bowl that I'm going out of before cooking it, that way, I know roughly how much pasta is needed. Thank me later.
Thanks to you guys, we had a good number of questions this week, so if you noticed yours didn't make it, don't worry as we're keeping them stored for a week we might not get as many. We'll definitely get to them at some point soon!
If you think of any questions you want us to answer next week, send them to @LiamFWinnard on Twitter or email liam@wrestletalk.com. We'll also post a reminder tweet from @WrestleTalk_TV next Sunday and get replies from there too.