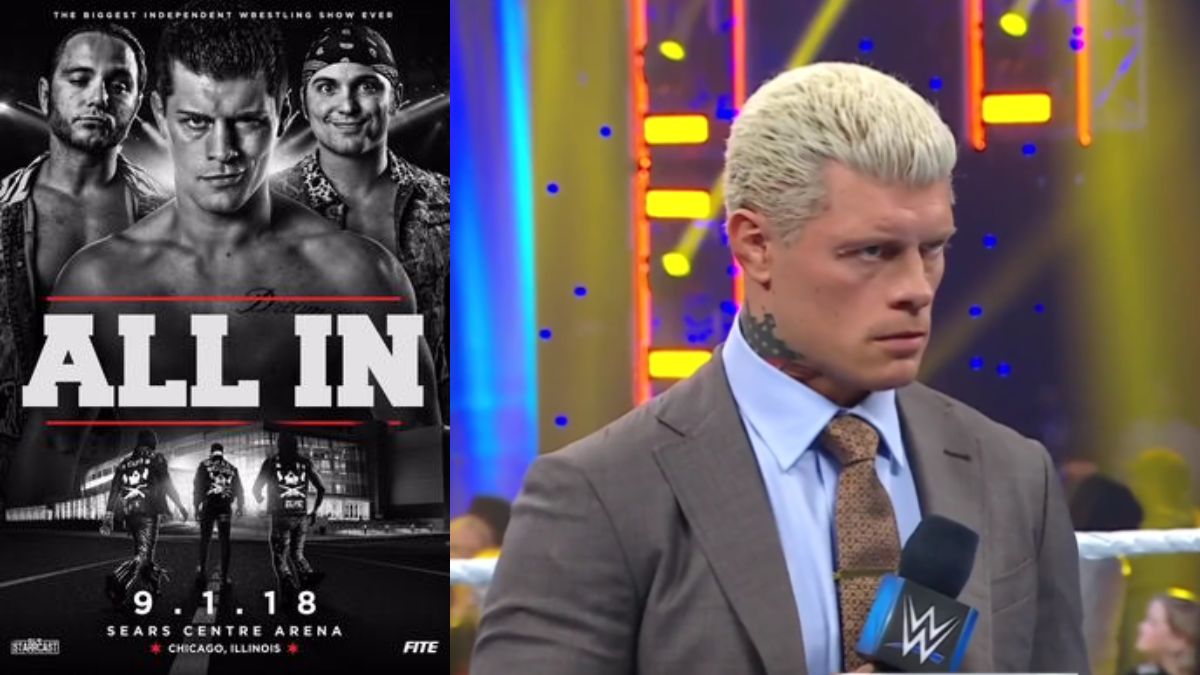 Cody Rhodes has given his thoughts on the "All In" event.
The "All In" event in 2018 was billed as the biggest independent wrestling show of all time as Cody Rhodes, The Young Bucks, along with ROH, NJPW and various independent promotions, packed the Sears Centre Arena (NOW Arena) with over 11,000 fans.
The event came together after Rhodes responded to Dave Meltzer on Twitter who said Ring of Honor couldn't sell out an arena of 10,000 fans at that time.
In an interview with Dale Download on Dale Earnhardt Jr. podcast, Cody Rhodes reflected on the historic All In show. He said:
"Here's what people don't know, or here is what people suspect. We told everybody, it's all us, it's all me, Matt, and Nick.' We presented it as 'we're doing this, we're breaking all the rules, we're bringing all the companies together, we're literally going All In.'"
"We did have help from a company, Ring of Honor was the company that helped produce it. People think Ring of Honor footed the whole bill or we footed the whole bill. The truth is somewhere in the middle."
"We, literally, did have to go All In. We were going All In on our name alone in the sense that we had to get over 10,000 people."
"The comments on social were that we couldn't put 10,000 in an arena and I, all pre-workout up at the gym, 'I'll take that bet.' Now, we're stuck. We can't sell 5,000 tickets. We have to sell 10,000 tickets,"
Cody continued on to explain everything it took for The Elite to put together this show, saying:
"We did everything we possibly could, we broke every rule. I never use PayPal, but I laugh when I look back at my PayPal, and all the paydays are still there from these different little things that I had to pay for to get, like Road Warrior Animal to come over to ride his motorcycle."
"My buddy Conrad [Conrad Thompson] did a convention because he said, 'I bet if this sells out, people will piggyback off it, you should let us piggyback. We'll do a whole convention, and you can steal some legends and assets.'"
"It was like Woodstock for wrestling. I walked into the hotel and the energy was through the roof. The lobby was filled to the brim with fans. It was mind-blowing."
Rhodes concluded by describing the feeling of the day tickets went on sale and selling out immediately, saying:
"That day, before any of this had happened, we were riding back from the press conference where I couldn't get the mic to work — here he is, putting on a show and the mic wasn't working — we come back from the press conference, there was a fan driving us to the show."
"We were trying to go on the site to buy tickets, and I'm thinking, 'If the site is frozen, we're screwed' or 'is it blowing up? Can it crash?' It crashed immediately. It was 11,236 in 28 minutes. I said 'We need this,' that welcome to the Indies letter. 'It can be bigger.'"
"I like to think big. It was all in front of us, and we had to execute and make it happen. A wonderful memory."
"I have trouble with the fact that I no longer own the name to it. I kind of look at it in the sense of, it's not mine, it's the fans'. Let them have a good time with it."
AEW recently held the second All In event from Wembley Stadium, which set the all-time worldwide paid attendance record for a pro wrestling event.
For the full results from AEW All In London, click here.
Transcription via Fightful
Think you know the most about wrestling? Join our Wrestle League predictions competition for free, and be in with the chance of winning $250 of Amazon vouchers. Make sure you subscribe to email notifications to make sure you never miss a show.