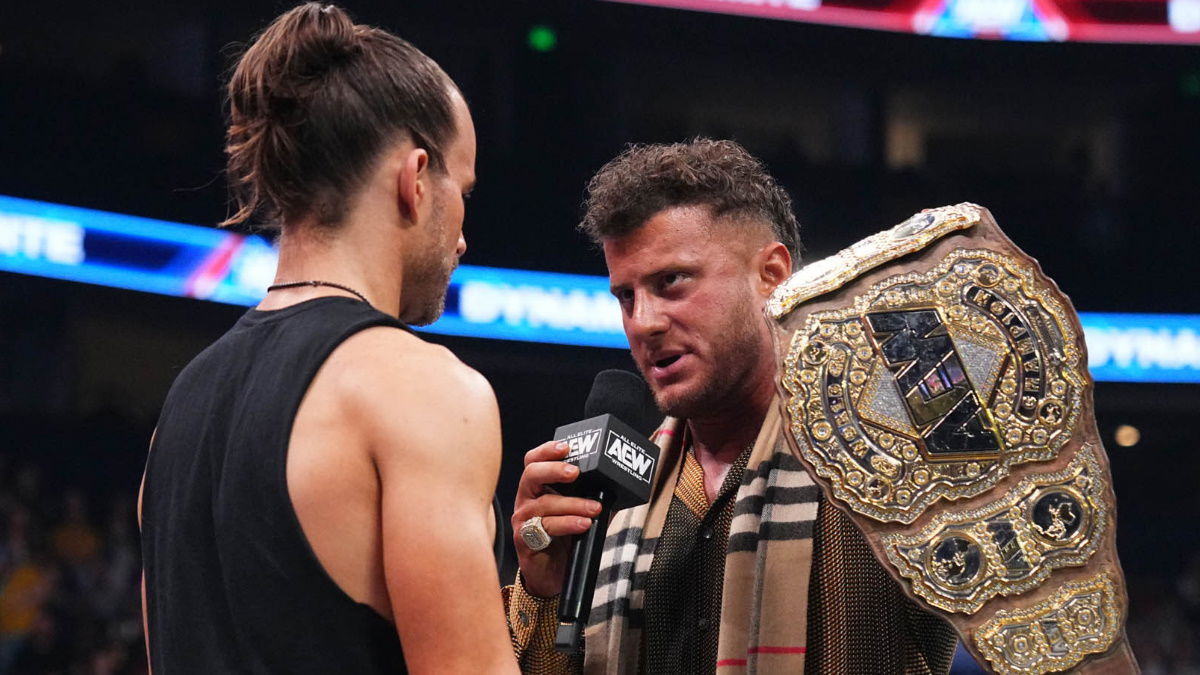 MJF has explained what separates him from Adam Cole ahead of AEW All In London.
The wrestling world has been enthralled by the weekly segments of Better Than You, Bay Bay, MJF and Adam Cole, on AEW Dynamite since the two men were paired in the Blind Eliminator Tournament.
Cole and MJF are set to make history when they team to challenge ROH World Tag Team Champions Aussie Open on the AEW All In Zero Hour pre-show before facing each other for the AEW World Title in the main event.
Ahead of this Sunday's historic event, Maxwell Jacob Friedman spoke with Justin Barrasso of Sports Illustrated to discuss his showdown with Adam Cole. When asked about his program with Cole, he said:
"I could talk all day about Adam Cole. He's made me a better person and a better wrestler, and makes me think about this sport on a different level. That breeds competition because we both want to be the best."
"But what I can say that Cole can't is that AEW is my television exposure. I wasn't on NXT or Raw or SmackDown. No one knew who the hell I was. I had to get myself over, and that's exactly what I did."
On what separates him from Cole and the rest of the professional wrestling industry, MJF said:
"To quote the greatest of all-time, at least outside of myself, 'Just so when you people think you have the answers, MJF changes the questions,'"
"This is my life. It means everything to me. I live it, I breathe it. It's my soul. That's why, at the tender age of 27, I'm a millionaire, I'm a top name in the industry, and I'm about to literally become the biggest headliner in the history of this sport."
"That's not hyperbole. I'm going to main-event in front of the largest crowd in the history of pro wrestling."
"If that doesn't make your spine tingle as a professional wrestler, I don't know what does. I got here not just because of my God-given talent, but because of my hard work."
Friedman continued on to note that being where he is at in his career at his young age is unprecedented, saying:
"When you go back in the annals of pro wrestling, if you think about the guys in their 20s, you knew certain guys were going to be great. They weren't fully ready, and you know who I'm talking about, but we went with it because we saw the potential."
"There is no one in the history of this sport that, at 27, has been this good. I'm the best in the squared circle and I'm the best on the microphone. Name someone else in this sport, anybody else. I grab your f**king attention more than they do."
"I'm proud of that, especially because no doors were open for me. They were locked with cement bricks in front of them, and I had to run through them. That's the difference between me and everybody else in this sport today."
For the full lineup for this Sunday's AEW All In London event, click here.
Think you know the most about wrestling? Join our Wrestle League predictions competition for free, and be in with the chance of winning $250 of Amazon vouchers. Make sure you subscribe to email notifications to make sure you never miss a show.