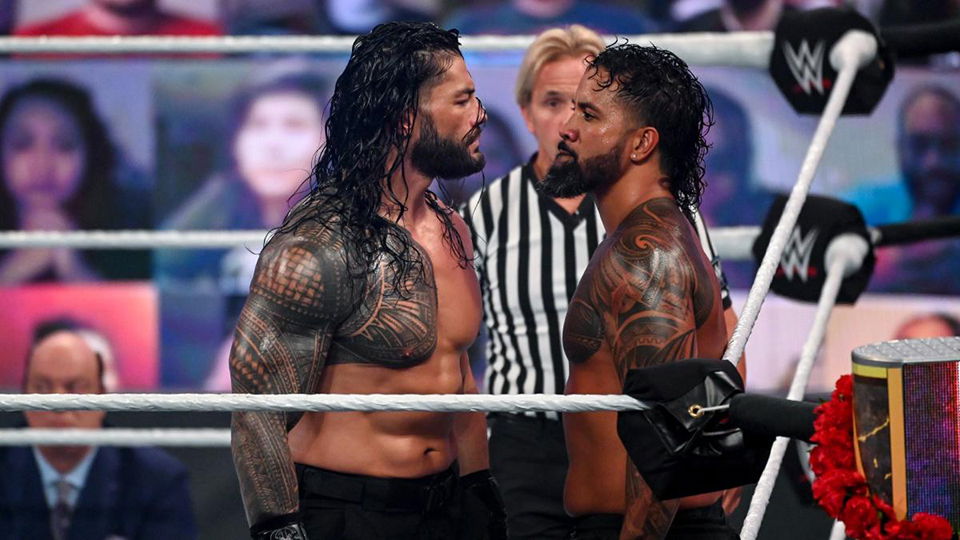 Last week on Friday Night SmackDown, Roman Reigns challenged Jey Uso to an I Quit match inside Hell in a Cell at the pay-per-view later this month. However, Jey has revealed that this second match wasn't originally on the cards.
While speaking with Peter Rosenberg for his YouTube channel, Jey Uso opened up about getting to feud with his cousin on SmackDown. Uso noted that the plan was only to do one match between the two, but WWE extended the feud as it was getting hot:
"This was a one and done, supposed to be. They were like 'this sh*t is fire right here, bro'. I think I was just to get Roman to the next homie but man, you see the storytelling, this is real. The feeling's right there, the promos right there. If you watch the match back, the match was basic, what grooved is the damn story and that is the main thing.

"We showing you real emotion, we showing you feeling. You can put the Fiend with Roman, you can put Seth Rollins with Roman, whoever, whatever, whatever top guy they got, put him with Roman, I guaran-damn-tee you, uce, they didn't pull out emotion, they didn't pull out real feeling, they didn't pull out storytelling the way me and uce did that thing. Tell me you didn't feel like you were watching a damn movie, you forgot you were watching wrestling. When I watched it back, I was watching that thing like I wasn't in it. I was like 'man, this is good, this is my best work.'"
This would certainly make sense, as it was reported yesterday that the original plan for Hell in a Cell had Roman Reigns defending his title against The Fiend. As we know, The Fiend has been moved to Raw and that match doesn't look like it'll be happening anytime soon.
Do you think WWE made the right call extending out the Jey Uso and Roman Reigns feud beyond Clash of Champions? Be sure to let us know on Twitter.
Thanks to SEScoops for the quote