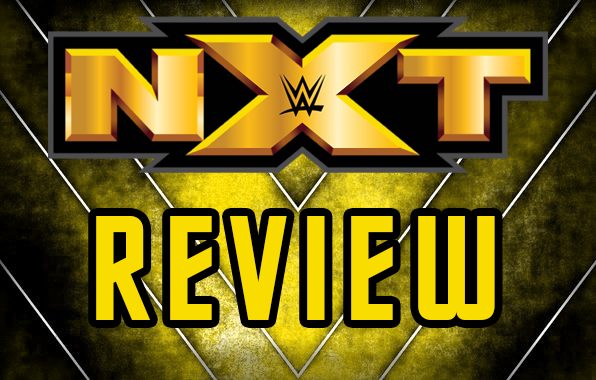 Have you ever wondered what the four aggressively-sung words are at the end of the NXT theme tune? Well, they're EVIDENCE, RESISTANCE, APATHY, PERDITION. I looked them up. There you go, you can't say the weekly WrestleTalk NXT Review isn't educational.
Speaking of themes. SHOCK THE SYSTEM! It's always the best way to start an episode of NXT. But there's Adam Cole showing up his fellow Undisputeds verbally again. The awesome foursome cut a promo mocking Oney Lorcan, Danny Burch and Pete Dunne. Once again, Cole stands out as the star of the squad, like Justin Timberlake in N'Sync, only much much better.
This week I've also learned the words to Kairi Sane's entrance tune.
Yoho. Yoho, Yohoooooo. Yoho. Yoho. Yo-ho.
Catchy.
Now here's something I find irritating about NXT. Why do they insist on having the star come out first for squash matches? Kairi is already in the ring, all smiles and piratey perkiness, when Shazza McKenzie (an eight year pro from Australia, Mauro informs us) gets a full entrance like she's about to be competitive. Which she blatantly isn't. In fact, Shazza's not very good at all. Her offence is weak and she bumps like a mannequin. Kairi polishes her off fast with a Tokyo Driver and InSane elbow. Hardly broke a sweat.
Yoho. Yoho. Yohooooo…WAIT. Here's LACEY EVANS! Wearing fishnet stockings that would make a Saudi seethe. Nobody enters or leaves a ring with as much poise as the Southern belle. She offers Sane an apology and a handshake. A likely story! Has Kairi Sane never watched wrestling? Sure enough, Lacey belts her instead. The camera quickly cuts away to a recap of Tomasso Ciampa attacking Johnny Gargano last week. Not sure what the point of the whole Sane-McKenzie-Evans gubbins was, but if it means more Lacey on my TV screen, then I'm all for it.
Cathy Kelly is backstage with Candice LeRae. Who looks like Lars Sullivan has just eaten her children. Seriously, she looks devastated. The wife of the injured Johnny Wrestling can't even finish the interview, she's so upset.
Did Mauro Ranallo just call Bianca Belair 'searching'? Oh, 'surging'. I swear I'm going deaf.
We get a Lars Sullivan video package. The man is absolutely mesmerising. I'm a huge fan of Lars because he's DIFFERENT.
The Street Profits bring the swag like nobody can. I'm not sure what's in Montez Ford's cup, but I want some. The man has more energy than Jurgen Klopp on a touchline. And WWE-style set ring entrance routines? These are beneath our Montez. He just freestyles it down the ramp busting out a different dance move every week. Meanwhile some of that Ford charisma is starting to rub off on Angelo Dawkins. He's reminding me more of D-Lo Brown, circa 1998, every outing. And as DDP would say, that's a good thing.
TM61 are dull in comparison. So of course, they win.
SENTON ATOMICO! There goes Mauro, making up names for moves again.
One of the Aussies, I don't really care which one, pins Ford with his feet on the ropes while his partner helps. Was that a heel turn?
We get a Tale of the Tape and a video package for the Heavy Machinery-War Raiders feud. I'm all for BIG DUDES FIGHTING (yes, I regularly read Figure Four Weekly). But are we supposed to be impressed that the combined weight of all four is 1,202lbs? Andre and the Twin Towers were bigger than that with just three of them.
Kona Reeves is debuting soon. He has The Finest smile, I'll give him that. Not sure about The Finest jewellery though. And as for The Finest hair, don't get me started.
Kassius Ohno is with Cathy Kelly. Interesting T-shirt, Kassius.
Ohno was there last week when Gargano was stretchered into an ambulance and he's miffed. So he's going to be Ciampa's mark-time opponent, by the looks of it.
KO2 (Kevin Owens is KO1) calls Tomasso a coward. Then he calls him a…a…a WHAT? A Scaramouche? Is Tomasso Ciampa a Bohemian Rhapsody fan? Will he do the Fandango? It will be like the Raw after WrestleMania 29 all over again.
Patrick Scott is already in the ring, That's more like it. He shouldn't get music though. No jobber should ever get music. And here is the re-debut of Kona Reeves.
Heavens above, facially he really is the spitting image of a young Dwayne Johnson. Right on cue, Ranallo informs us that Reeves is inspired by The Rock. No kidding. Reeves is aggressive and expressive, although he moves like a new-born foal not quite yet in charge of its limbs. But at least he hit that middle rope back elbow Ted DiBiase always used to miss. Reeves polishes off Scott with a face-first Samoan Drop apparently called the Hawaiian Drop. The crowd responds with derision. Kona is a PROPER HEEL. A few more weeks of this and we'll forget he used to be a jobber like Patrick Scott. And Patrick Clark. Remember him?
Next it's an EC3 package. The One Percenter sits smugly by his penthouse pool, towel around glistening shoulders, as he claims his second NXT match next week will be even better than his Takeover debut, saying: "The sequel is always superior to the original." It's been a sheltered life for rich boy Ethan, who has clearly never watched Back to the Future II. Or Ghostbusters II. Or especially Grease II.
Nice to see timid Dakota Kai has plucked up the courage to face The Hands of the assembled press. But as soon as The Hands mention Shayna Baszler, her shoulders slump. Dakota's got to be careful if she wants to remain a babyface. There is a fine line between sympathetic underdog and petulant crybaby. She was in danger of crossing it during this skit. Then Vanessa Borne arrives. Calls Dakota a "scaredy cat". What are we, five years old? Borne tells the nervous New Zealander that "I'm not scared of you, Shayna Baszler, or Dakota Kai." I had to rewind this bit, just to check if Vanessa really did say that. Yes, she did.  Sharpen your Botchamania pencils, Maffew.
Candice LeRae enters the NXT arena. She looks broken. Not in a Hardy way, but in a 'my husband's in the hospital and I'm believably worried about him and my mind's not focussed on my match' kind of way. Many other WWE superstars could take acting lessons from Mrs Gargano. Out comes Bianca Belair, twirling her braid like a majorette. She's still the EST of NXT. Have we worked out what EST stands for yet? I'll Google it. Apparently it stands for Eastern Standard Time. Is Knoxville, Tennessee in that time zone? Sorry I'm British and I'm really confused.
Anyhow, the match. Candice is tentative. Belair deadlifts her off the canvas straight into a gorilla press, holds her there forever, then lawn darts LeRae into the top turnbuckle. THAT WAS IMPRESSIVE! This girl is a lock for the main roster. Candice fights back gutsily but loses to a powerbomb into a face-first slam called the Alley Oop. If I was a coach in the Performance Center, I'd be telling Belair to change her finisher, it doesn't do it for me.
Afterwards, Candice is crestfallen. I really felt for her. Brilliant performance.
OK, so Senton Atomico is actually a real move. Sorry Mauro.
Our TV main event is a vengeful Pete Dunne against the newly-cocky Roderick Strong.
Pete stomps out and glares into the hard cam for the longest time. He gets Kevin Dunn production brownie points for that. Roddy meanwhile emerges to his old theme tune which quickly segways into "SHOCK THE SYSTEM!" and out he swaggers with his Era buddies Cole and O'Reilly in tow. So Dunne just races across the ring at the first bell and mullers Strong HARD with a forearm. Then kicks him HARD in the ribs. Everything Pete Dunne does looks nasty, he's a master of the little things which give off the aura of a real fight. He even tries to break a hold by grabbing Roddy's NOSE. Meanwhile Adam Cole's in the corner, yelling encouragement and strategy like he's Bobby Heenan. The obvious stuff that hardly anyone does any more, Adam Cole does SO well. Strong starts busting out every backbreaker variation under the sun. Pete tries to break his fingers. "He's bending those digits like Beckham!" yelps Mauro, whose pop culture references are almost as dated as mine.
"AVALANCHE OLYMPIC SLAM!" Now that's GOT to be a made up name.
Eventually after a dandy little scrap, the Brummie hits the Bitter End. Cole and O'Reilly break it up at the two count with impeccable timing and begin a Bruiserweight beatdown. Are we getting a cavalry charge of Trent Seven and Tyler Bate? No, we're getting Danny Burch and Oney Lorcan. They run in and the heels are sent packing, Strong just launching himself for an AWESOME through the middle-rope bump off a Dunne forearm. "This rivalry is far from over!" yells Ranallo as the show goes off the air. I'm in favour of Oney and Martin (sorry…DANNY) getting elevated higher up the card but it would be more convincing if they'd won a few matches first.
Another watchable episode of NXT. What's particularly good is they're always looking forward, setting up the next week or even the next two or three weeks. That's the value of taping your TV, folks.
Tune in next time for EC3 vs Raul Mendoza and Kassius Ohno vs Tomasso Ciampa. That dirty rotten Scaramouche.
What did you think of this week's edition of NXT? Comment below or go to our Twitter @WrestleTalk_TV