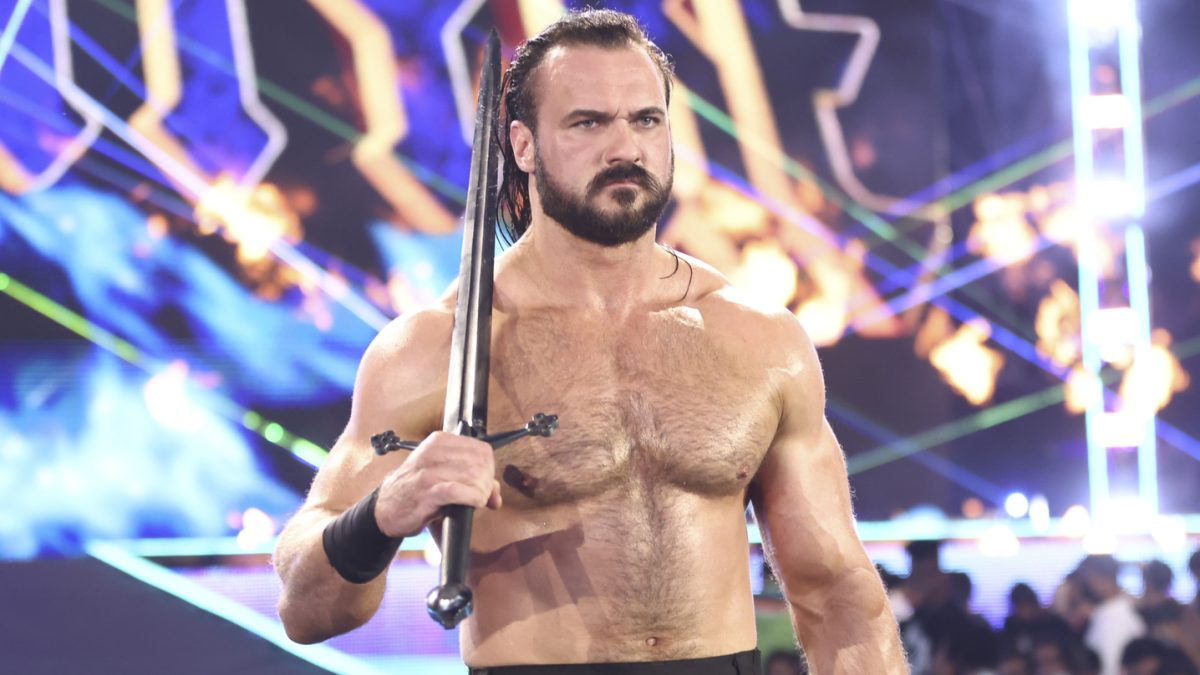 Drew McIntyre has commented on his WWE return, addressing rumors and speculation about his wrestling hiatus.
McIntyre made a comeback at the July 1 WWE Money in the Bank premium live event, confronting Intercontinental Champion GUNTHER.
This marked McIntyre's first WWE TV appearance since he and Sheamus unsuccessfully challenged for GUNTHER's title in a threeway bout at WrestleMania 39 in April.
During McIntyre's absence, there was a lot of speculation about his future, with some believing that the former WWE Champion was preparing to leave the company, with his current WWE deal reportedly set to expire in early 2024.
Speaking with TMZ Sports, McIntyre noted that it was 'amazing' seeing all of the different headlines about him.
Noting that he did have to recover from physical issues during his hiatus, but that there might have been 'some smoke' to some of the rumors, McIntyre said:
"It was cool, getting the break. There were a lot of rumors and headlines on the internet when I was out, probably like 50 different things. It was amazing all the stories about me out there.
"When you're not, you're not on tv, people talk, and you know, there might have been some smoke to some fire with a few of them, but it was nice.
"People were talking about me when I wasn't there, but I did have to get some things fixed physically. Unlike injuries, I've had in the past.
"There was no rehab involved, so I was actually able to enjoy my time at home, work on some outside projects, spend time with the Mrs and the cat, and take a step outside of the bubble and kind of get perspective again.
"So you're inside the bubble. We're 52 weeks per year. You go, go, go. Sometimes you can lose that perspective. And the last time I really had a hard look at myself outside the bubble was in 2014 when I got fired by WWE.
"So this time, I didn't have to get fired, thank goodness I had some time off, and I was able to sit down, reassess things, think about what I want to achieve within the industry and as a person, and return with that mindset and come right into a huge match and I'm very excited."
Noting that he missed wrestling, McIntyre said:
"Yeah. It did remind me just how much I love this; this is what I want you to do my whole life. And it's sometimes when you're in the thick of it, you really do forget that there's a time when I'd be happy to be the waterboy.
"And there are times when I've been on the road nonstop, and I'm complaining about things that are not worth complaining about or angry about, things that aren't worth being angry about.
"I'm watching the show at home. I'm like, 'Okay, man, get Nancy now and watch a great match.' I wish I were in that match. And I went to Berlin a couple of months ago for the Special Olympics games, where I'm a global ambassador of the Special Olympics.
"I had the opportunity to walk out with Team Great Britain in the stadium there and see all the fans in the crowd. And I was so happy for all the athletes to get that opportunity to be in front of so many people and see what they do best would've been working so hard towards.
"But in the back of my mind, I was looking out at everyone like, man, I miss this stealing, but I'm glad the athletes are getting to feel, you know, what we feel in WWE.
"And that was the first time that I truly was like, I need to get back as quickly as possible. And returning to London is a big surprise, uh, home country. Nobody expected that.
"I'm sneaking into the country. It was Manchester; I flew into six foot 5, 270 pounds. It was not easy to be a giant ninja, but I managed to slide under the radar, sneak into the hotel, and avoid the fans with the Money in the Bank briefcases and the titles over their shoulder.
"I would see and dove through the privacy doors of security doors, knock my door and hide there and return, hearing the reaction. Everybody, make sure you check out SummerSlam.
"I'm so excited to be back; it's in Detroit Ford Field. From what I hear, over 40,000 people are way more than 40,000 people. I hope I'm in ring shape that much, but I know my hands are in ring shape.
"Able to check out Ricochet versus Logan (Paul), and some incredible big matches will be going on. So yeah, I'm looking forward to SummerSlam. If you've never seen WWE, that's just the show to check out."
McIntyre will challenge for GUNTHER's Intercontinental Championship at SummerSlam on August 5.
Check out the announced card for the highly anticipated premium live event right here.
Transcription via WrestlingNews.co.
If you want to stay fully updated on all the latest wrestling news, click the red bell in the bottom right of your screen to receive notifications from WrestleTalk.com straight to your device!