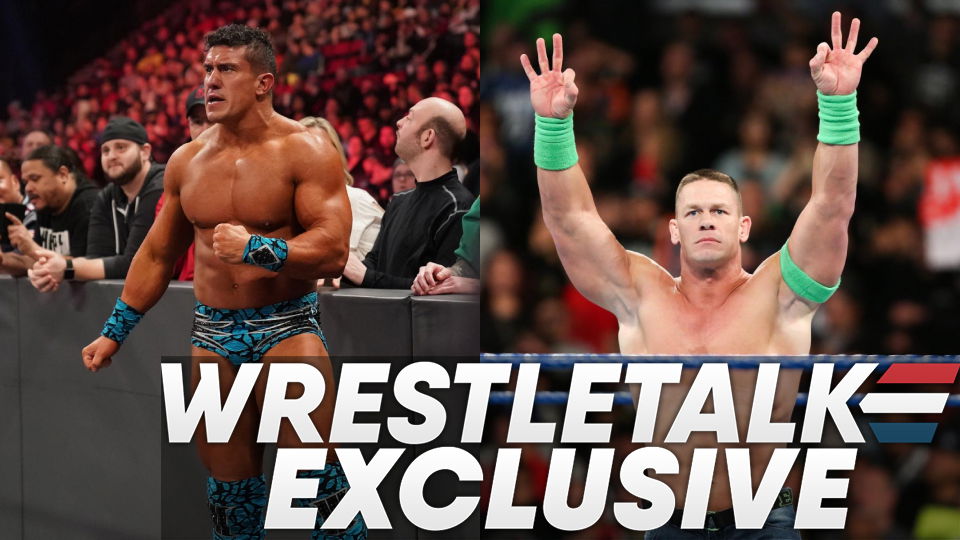 In an exclusive interview with WrestleTalk on the Wrestle2 YouTube channel, EC3 named a list of dream opponents which included John Cena.
Also on the list were Jay Briscoe (who he was supposed to face at ROH Final Battle before he was pulled due to COVID), Alexander Hammerstone, MJF, Jon Moxley, and Ethan Page.
When asked about dream opponents, EC3 said:
"Jay Briscoe, like, even if we start in January I think we can tell a very prolonged attempted intricate tale with him for sure. So when that was brought to my attention with Ring of Honor, 'We think we want you to work with Jay…', I'm like 'Yes! That's exactly who I want to do this with, he's perfect, that would be amazing', and hopefully will be. It started good, COVID kinda hit.

"Alex Hammerstone maybe, off the top of my head, would be interesting. I follow him on social media and met him a couple of times, and he has a s**t-ton of potential.

"If I was going to look at the AEW roster, I mean MJF obviously, because he is what EC3 was, there's a great story there. Moxley for sure, because I think we're tied together just based on him on his way out of WWE and me on my way in, and how it all went to s**t afterwards. A deranged psycho-boy EC3 could totally pin all the blame on him, possibly. And he can wind up rolling around in glass and barbed wire and death. Anything can happen, it could be good.

"If I look at IMPACT, beating the hell out of the 'Karate Man' Ethan Page really intrigues me. I don't know if he can handle 'the narrative', but I would see it through."

If you use this transcription please credit WrestleTalk.com and link back to this page.
When pushed to decide which one person he'd want to book himself against if he could, he said:
"Cena probably would be my top pick, because that's another guy, but you know he's making real movies now so, that's cool. With him, I see a lot of similarities with him and me, and there's differences, like I got to know him personally a little bit. But at the same time, he was kind of on that bubble at one point, but then it all switched for him, and he took off to become one of the biggest names of all time. I was on that bubble too, but it didn't turn for me and I catastrophically got shipped out. So, there's a great story there that's real and resonates, like what could have been if these roles were reversed in a different time, whatever. That's something I'd love to explore. Do I want him in the narrative? Yeah, I want him in the f**king narrative."

If you use this transcription please credit WrestleTalk.com and link back to this page.
You can check out the full interview here:
What are your thoughts on the above story? Let us know in the comments on Twitter or Facebook.