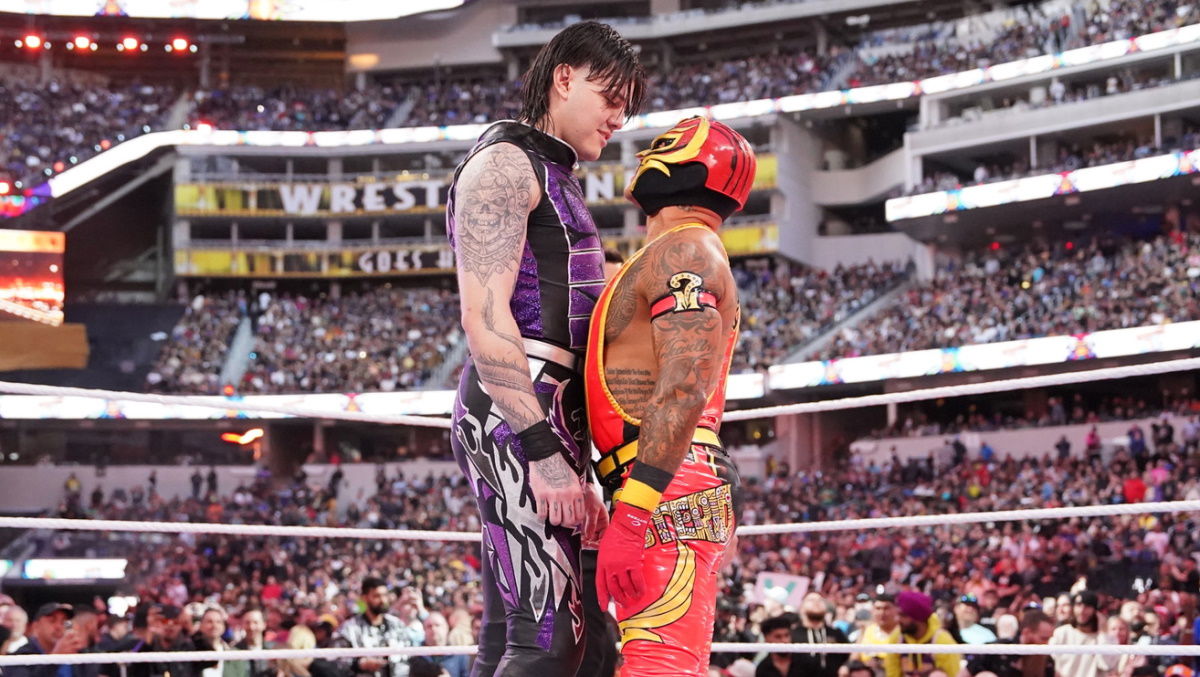 Dominik Mysterio has revealed his initial emotional reaction to his familial showdown with his father Rey Mysterio at WrestleMania 39.
On a stacked two-night card for WrestleMania in Hollywood, Dominik vs Rey was one of the best-built and highly anticipated matches across the weekend.
While Dom did have a memorable entrance and put on an emotionally charged bout with his father in front of over 80,000 people, the true gravity of the moment didn't set in until long after the match had ended.
Speaking in an interview with Metro, Dom revealed that he was hanging out with his best friend after the match when the "surreal" nature of everything started to dawn upon him.
Dom explained:
"After the match, I got back to my hotel room – we were in LA so there were food vendors outside our hotel. I think it was like 2 in the morning, and it was just me and my best friend, my buddy Daniel.
"I texted him, I was like, 'Hey I'm gonna go get some food, I'm not too tired', because my adrenaline I think was still going. It was me and him, we walked out there, we got some hot dogs.
"I was like, "Dude… I just wrestled my dad at Wrestlemania. This is pretty surreal"! I was like, "Damn, and I beat his ass!'"
Dom then discussed how the match came about, including both he and Rey's initial trepidations with facing him, saying:
"I don't think he wanted to do it, and I know there was a time that I didn't wanna do it either.
"But then things change, Judgment Day happened and I kinda came to the realisation that if I wanted to live up to the Mysterio name, or pass the Mysterio name, or even hold onto the Mysterio name and take it and run with it, I had to get through him.'
"It's still something I had to do, but I was not successful at WrestleMania, unfortunately there were some issues there that were caused by other different parties (like Bad Bunny).
Despite falling short at WrestleMania, Dom and Rey's interactions have continued, most recently on NXT where Dom reigns as current North American Champion.
Rey stood in the corner of Dragon Lee on the August 8, NXT in his attempt to dethrone Dom for his title, leading to a physical exchange following the match.
While their paths are only sporadically crossing these days, Dom feels there is certainly still some unfinished business left to be resolved, saying:
"But, we'll see what the future holds. I definitely have some unfinished business with my dad, but as of now I think business is handled."
Dom's affiliation with the Judgment Day has garnered him much success thus far, with the same to be said for other members Women's World Champion Rhea Ripley, and WWE Undisputed Tag Team Champions Damian Priest & Finn Balor.
With a world title shot also in his future, Ripley thinks that Señor Money in the Bank Priest could take the mantle of WWE Undisputed Universal Champion Roman Reigns in the near future, click here to read on.
Think you know the most about wrestling? Join our Wrestle League predictions competition for free, and be in with the chance of winning $250 of Amazon vouchers. Make sure you subscribe to email notifications to make sure you never miss a show.