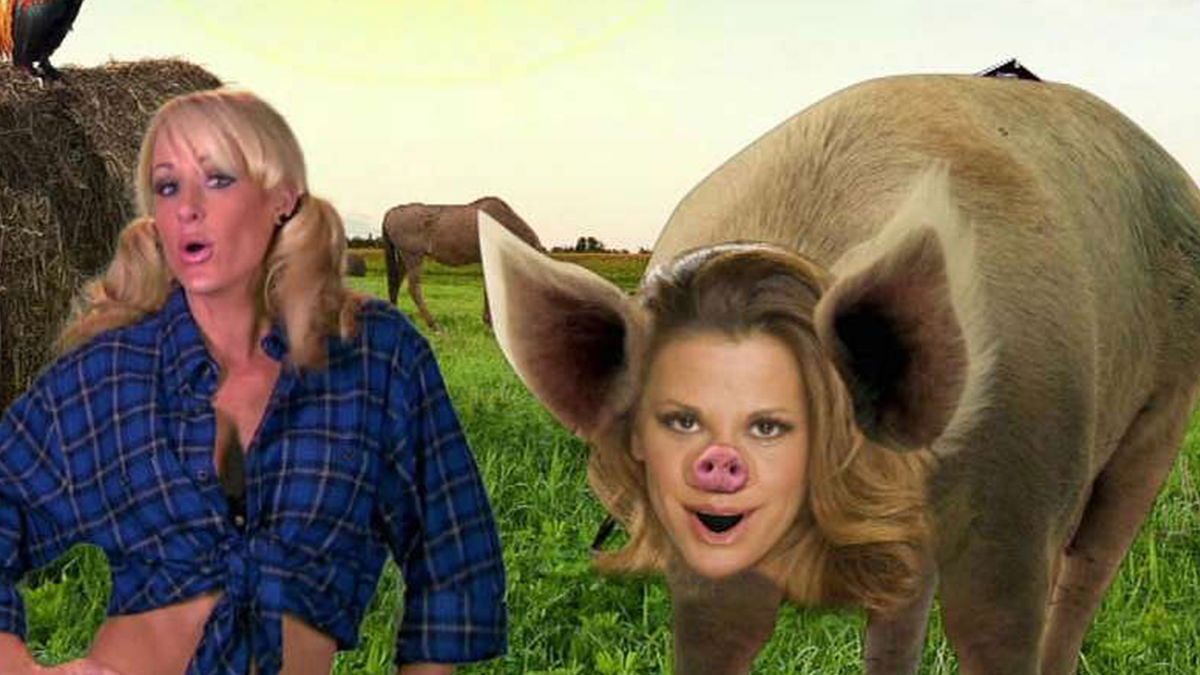 One of the more somber tales from pro wrestling recently was Jimmy Uso getting a DUI for the third time, and no I don't have a joke for this bit, here's hoping Jimmy gets the help he needs.
However, this also created a somewhat morbid fascination in how WWE would react on the following Smackdown, considering a) Jimmy was an integral part of the show's biggest storyline, and b) WWE have a history of subjecting their roster to cruel and unusual punishments for infractions.
Lana took to Talk Is Jericho recently to reveal how she was taken off TV for months when someone leaked an engagement picture of her and Rusev to TMZ, and while that's incredibly stupid because wrestling isn't real, honestly she might have gotten off lucky, because the WWE history books are unfortunately stuffed with cases of stars messing up, and getting their pats on the bottom in front of millions and millions of people.
And then you remember that the Rock called the Lana a wh*re for full minutes. It's like Judge Judy but with fewer eye rolls and more people have entire Samoan butts pushed in their faces for failing to comply.
I'm Adam hailing from partsFUNknown and these are 10 Times Wrestlers Were Punished By WWE On Air.
---
10. Take One Of These And Call Me In The Morning
We've touched on this in a recent list of Money in the Bank cash-ins but oh man, it's a f**king heartbreaker.
With the rise of the internet and the transparency that up-to-the-minute news has given WWE's decision-making, it's become increasingly rare to see people receive their bollocking in a public forum, again sorry Lana, but like I say, it's rarer.
However, the biggest 'and don't do it again' that big dub dished out in the last 10 years was against Baron Corbin, who misbehaved so WWE took his toy away, his toy being the Money in the Bank briefcase.
Backstage Corbin had publicly disagreed and argued with a doctor downplaying the consequences of concussions in the NFL, and by chewing him out in front of the boys, Bazza Corbs was seen to be acting disrespectfully, and the ensuing heat saw WWE stripping him of his newly-won case in the most humiliating way possible, losing via rollup to Jinder Mahal in about 6 seconds.
That's what happens when you stand up for your friend's brains I guess.
---
9. Hot Lesbian Punitive Action
Let's head back in time to the mid-2000s when WWE was really weird and gross and weird, on the October 18th episode of Raw in 2004, Christy Hemme, fresh off of winning the WWE Diva Search was feuding with Carmella, not that Carmella, that Carmella (DeCesare), remember that Carmella?
The two women would be wrestling at Taboo Tuesday in an audience-voted match. Carmella, being the dastardly heel was pushing to do something even tangentially sports-related whereas Christy, the face, said she wouldn't be happy unless she got to have full sex in the ring or something.
To prove how committed she was, Christy then gave Lilian Garcia just the world's most awkward kiss, live on air. If Lilian Garcia looked like she hated it, that's because she did, as the whole thing was a rib on her, to punish her for what WWE perceived to have been partying too hard on the latest European tour.
It's like your Mum telling you to smoke the whole pack of cigarettes, only it's kissing someone you don't want to kiss on tv and it's really weird.
---
8. The Butt of the Joke
Continuing on with WWE's HR department and its weird relationship with its female employees, 2000 was the year that Lita became the third part of the triforce that was Team Extreme, Matt the triforce of wisdom, Jeff, the triforce of plummeting at the ground like a cartoon coyote and Lita, the triforce of cool trousers.
It wasn't until early 2001 however that Matt and Lita's real-life relationship was made part of WWE continuity. On the February 19th episode of Raw 2001, Matt saved Lita during her match with Dean Malenko and afterwards the two kissed to a huge pop.
WWE wanted Lita and Matt to repeat the kiss on Smackdown four days later, but apparently Lita refused, makes sense, law of diminishing returns and all that.
However, WWE operates by a different, crueler law than that, with Lita being punished for her disobedience by being stinkface by Rikishi on that smackdown instead, and god lord it was an extra long, extra horrible stinkface at that. Poor Lita it's a wonder Rikishi doesn't start choking on her fucking nose. Weird company.